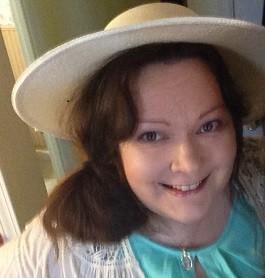 ​​Lisa M. Prysock lives in rural, scenic Kentucky with her husband Robert of nineteen years. Together, they have five children. She enjoyed homeschooling her two youngest children. She has a daughter in college, two sons grown, and two stepdaughters, grown. A dog and a cat add to their daily joys and frustrations.

She desires to tell the world all the wonderful things her Savior has done for her and in her life. Lisa does that best through sharing her stories, though fictional-- with traces of her own life experiences or lessons learned. ​
Lisa has written two Regency Romance novels, two Victorian, one Civil War Era, one mail order bride pioneer story with a Jane Austen twist, and a devotional. Most recently, she completed a series called 'The Lydia Collection.' This collection of Christian Historical Romance can be read in any order as the stories are each unique and do not intersect. The collection includes a modern day Regency "Ruth" Romance, an Antebellum Era Romance that blossoms on the Underground Railroad, and a Jane Austen-ish mail order bride story with a Pioneer Era setting, post Civil War 1870's. To Find a Duchess is her debut novel and published in 2011. She completed 'The Victorian Christian Heritage' series by June of 2014, which includes Hannah's Garden: a Turn of the Century Love Story and Abigail's Melody. She wrote 'The Lydia Collection' next, which includes: The Redemption of Lady Georgiana, Protecting Miss Jenna, and Persecution & Providence. This series completed in May of 2016. She is also the author of a devotional which released in October of 2016, Arise Warrior Princess. For readers who want to know, yes, she may add to each of her series... surprises can happen!

Lisa recently released Geneva, Book 1 in the 'Brides of Grace Hill Series.' This fictional generational Christian Historical Romance series has a theme on cultivating fruits of the Holy Spirit in our lives. The fourth book in the series will be a contemporary. Annabelle, Book 2, is scheduled to release in time for the summer of 2018. Also, be on the watch for Victoria and Tracy Jo!
Lisa is also excited to be part of the 'Whispers in Wyoming' multi-author series, a contemporary Christian Western Romance series with authors Danni Roan, Kari Trumbo, Lynn Winchester, and Rachel Skatvold! Look for two contemporary western romance releases by Lisa in this series-- one in late October 2017 titled Dreams of Sweetwater River and another in late January 2018, Marry Me Katie!
When Lisa isn't writing she enjoys spending time with family, working in the church, gardening, swimming, working out, walking, cross stitch, sewing, crochet, and reading. She also enjoys decorating and organizing her home, cooking and baking, as well as scrap-booking and making arts and crafts. She especially loves all things old-fashioned, hence her slogan. She also loves butterflies, horses, cats, ladybugs, chocolate, flip flops, long dresses, purses, shoes, hats, and many more such things... including doll houses! She has many favorite flowers also: hydrangea, snapdragon, geranium, petunia, vinca, pansies, hyacinth, foxglove, morning glories, lily of the valley, and many more...

An avid reader, she grew up with a strong love for reading classic literature and loves history. A few of her favorite books include: Jane Eyre, The Little House on the Prairie collection, the Jane Austen collection, Heidi, the Anne of Green Gables collection, and Little Women.
Lisa spent some of her early childhood growing up on a farm in Minnesota and later in the Ohio Valley. She has also lived in Texas, Florida, Virginia, and Tennessee, but Kentucky is home. In 5th grade, already an avid reader, Lisa successfully competed in a spelling bee at school where she took first place and went on to compete at the state level. At age thirteen, she had earned enough income to buy a manual typewriter to write stories on. She took first place for a short story in 8th grade, and also won an award for some of her poetry and artwork. Students were also required to keep a journal that year, and from that time on, she was hooked with the writing bug forever.

Her love for books and writing started much earlier than her middle school years. She has a very vivid memory from a day in kindergarten when instead of playing with the other children during free time, she can remember preferring to write her first 'book'--: a compilation of illustrations about the beloved children's character "Curious George." With help from the teacher, she managed a few sentences-- though she couldn't spell much yet. She also remembers the teacher stapled the pages together upon request. She considers this her very first attempt at writing a book. Lisa has been writing ever since and truly enjoys sharing her faith in Jesus Christ through her writing. Readers will often find her own artwork inside her books as she still enjoys making many of her own illustrations from time to time.
​​Her writing dream stems from a desire to be a part of meeting a huge need in today's culture for providing wholesome entertainment and educational literature that is rich, honors God, is family oriented --and especially draws people closer to and inspires faith in Jesus. She has devoted herself to writing wholesome books that share the good news of a Risen Savior with a world looking for hope. She loves to share scripture and Biblical truth in ways that are relevant to the lives of her readers and told in an interesting way.
The technology of today makes it possible to hear almost immediate feedback and keep in touch with readers. She loves to get reader reviews on websites where her books can be purchased! Not only do reviews encourage and inspire writers, but favorable reader reviews drive sales up and influence other readers to purchase and read her books. She feels a great deal of gratitude to her readers.
Be sure to sign up on this website to receive the occasional important newsletter posts. You will then be on the mailing list to be among the first to know when her new books launch. You may also sign up near the bottom of the home page to access member's only content that is useful, enjoyable, and educational (coming soon). ​​
She wants her readers to know their purchase and support of her work is beneficial to furthering the kingdom of God. Each month, she gives a portion of her book proceeds to support missionaries and evangelists who spread the gospel, attempting to follow the model of Lydia in the Bible who supported the New Testament Paul --and other examples in the Word --of women who "ministered of their substance" to those doing the work of Christ. In this way, when we work together, we are all entering into the labors for a harvest of souls. You can find out more about the missionary/evangelical efforts she supports by reading a few of her earliest blog posts at this website. Lisa is very much an old-fashioned girl at heart and thanks you for stopping by her author site! She values your kind comments and support. Please don't forget to sign the guest book located on the Home page!
Lisa is a member of ACFW (American Christian Fiction Writers) and Louisville Christian Writers.